This week's Back to the Present #2, I brought five more games from my childhood. But before that, here's a small ponderation about Retrogaming.
What is Retrogaming, and what makes it so popular?

Retrogaming covers, in basic terms, old videogames and systems, including computers. Retrogamers look for discontinued consoles and games for two primary reasons: reliving nostalgia and/or resell. Precisely because they are discontinued, retro products can reach astronomical values. Retrogamers look for older consoles like Atari 2600 or ZX Spectrum 48K and more contemporary ones like PlayStation 1 or Game Boy since these are already considered retro.
An abandoned videogame system can cost a couple of bucks. Cleaning and part replacement can turn an old brick into a fully functional console that could be sold (or loved) for a far greater value.
The truth is that in the early days of gaming, games were more straightforward. There was no need for great computational power, realistic textures, or even a cinematic experience to bring joy to the 70s, 80s, or early 90s. It was easier to be innovative.
What makes us cling to the past are memories. Who does not like to remember the moments well spent with family or friends? Recalling the feeling of finishing a hard level after several attempts, following a good story, or even seeing your own name at the top of the scoreboard.
I do not consider myself a professional retrogamer, nor do I actively seek to increase my collection. However, I do not disregard good Game Boy game sales. I essentially look for games I enjoyed but didn't own back then. For me, they have, above all, sentimental value. Old videogames bring me heartwarming memories, just like Disney movies.
For that very reason, I bring 5 more games that kept me entertained in those glorious times. Again, not necessarily in order.

In 1997, Disney Interactive released Disney's Hercules' action game, based on the movie, for PlayStation and PC. In 2019, it was again released on GOG and Steam.
Hercules is genuinely an interactive action version of the movie. Filled with the same cutscenes and soundtrack, Hercules was one of the coolest kids' games. The levels weren't that simple, but of course, the difficulty could always be changed.
I remember playing Hercules on my cousin's PlayStation and being incredibly jealous. I only had one of those Disney demo CDs that was bundled with cereal boxes.
I decided to play a bit in the stream, so here comes a bit of gameplay soon.
Push Over was the promotional game for Quavers snacks, developed by RedRat and distributed by Ocean. Like this, there was the Cool Spot by 7Up, the Zool by Chupa Chups, among others.
In Pushover, we played with a little ant. We had to complete puzzles that consisted of rearranging and pushing blocks that fell in series, like dominoes, through the innumerable levels.
In addition to the old DOS version, it is also available on Steam.
Prehistorik by Titus is a platform game and the first title in the series, which came out in 1991. We played with this caveman whose goal was to reach each level's end with a full food bar. It was necessary to collect food and defeat dinosaurs, bears, and other enemies, in an environment where almost everything is hostile. We had to discover secret passages, attack the genie at the right time to obtain items and, fundamentally, escape unscathed.
It is also available on Steam.
DynaBlaster was Bomberman's name in Europe. It came out in 1990 for TurboGrafx-16 and Amiga, as well as other platforms. The version I had was MS-DOS.
Bomberman is an action game, maze, and at the time, it had a multiplayer mode. It was awesome being able to play with my cousins! The problem was having 4 people playing at the same time with just one keyboard. Since then, I have been a fan of Bomberman and have always enjoyed the local multiplayer modes.
5. The Incredible Machine.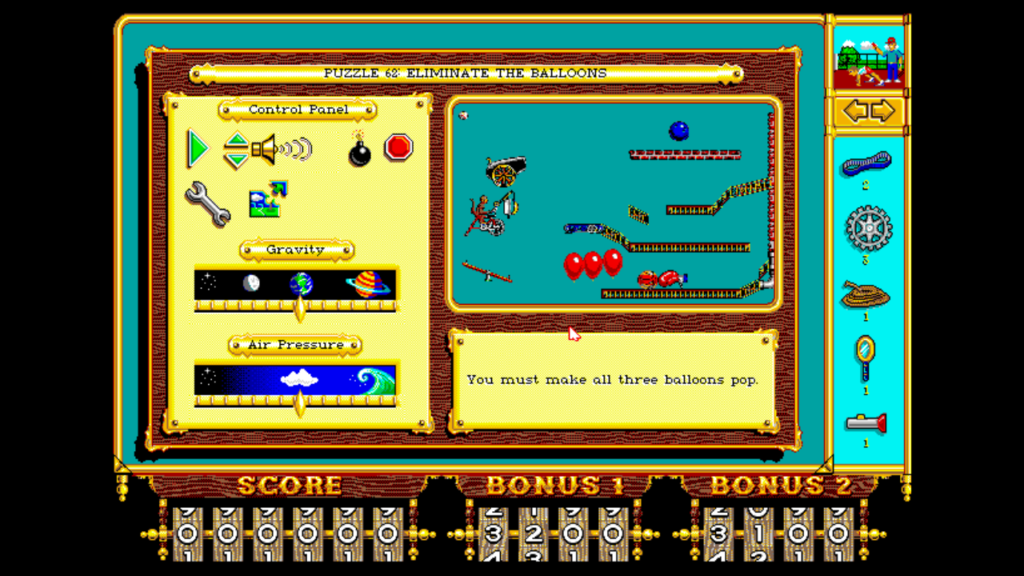 The Incredible Machine (TIM) is one of my favorite games from Sierra Inc, which launched other popular collections such as King's Quest or Space Quest.
TIM was divided into multiple levels that were unlocked and could be played at any time. We had a given number of objects in the inventory and used them to fulfill the main objective. These objectives could be basketing a ball, breaking an aquarium, and make balloons fly away. The available objects were often peculiar. There were cats, rats, basketballs, brick walls, dices, buckets, candles. Anyway. Everything you can find in a pantry.
There was also a creative way in which we could create our own machines. As a child, I used to have fun lining the trampolines and adding cats and mice. There were also some easter eggs, like a Christmas tree, available on December 25th.